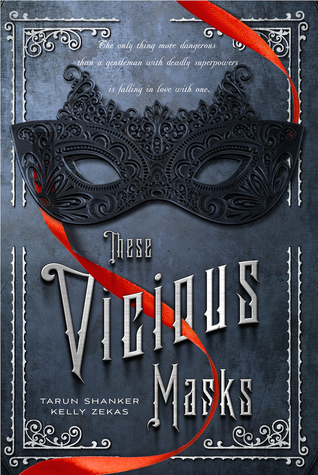 Title: These Vicious Masks
Author:  Tarun Shanker  and  Kelly Zekas
Genre: Young Adult, Fantasy
Publisher: Swoon Reads
Publication Date: February 2016
Pages: 298
How did I get this book: Borrowed it from the library
Description (Goodreads)
England, 1882. Evelyn is bored with society and its expectations. So when her beloved sister, Rose, mysteriously vanishes, she ignores her parents and travels to London to find her, accompanied by the dashing Mr. Kent. But they're not the only ones looking for Rose. The reclusive, young gentleman Sebastian Braddock is also searching for her, claiming that both sisters have special healing powers. Evelyn is convinced that Sebastian must be mad, until she discovers that his strange tales of extraordinary people are true—and that her sister is in graver danger than she feared.
My Thoughts
I am in love!!! Review over.
.
.
.
.
.
Just kidding…but seriously, I am in love with this book. They say this book is Pride & Prejudice meets The X-Men. Now with full disclosure, I have never read Pride & Prejudice. I'm sorry, but classics scare me. I promise I will get to it this year sometime.
So with that being said, I still think there is a Pride & Prejudice feel from everything I know. The story is in England during the 1800s and a woman's job is to look pretty and drink tea. Is that right? Well, even if it isn't , I pictured women in old Victorian dress sitting upright with their tea gossiping about the latest scandal.
Oh, and that is what I got. Now lets throw the x-men in there and give it a big stir. We have powers. Extraordinary strength, super healing, seeing the future, forcing everyone to tell the truth when you talk to them, etc…. If you think that sounds awesome – IT WAS!! 
I loved the characters even when I hated them. Or I start out loving them and then I hate them. OR I hate them and then I love them. YOU GET THE POINT.
We have Evelyn and Rose. Sisters that go against society norms for women during this time by giving people medical attention…only something men did during this time. Rose disappears and Evelyn goes on a mission to find her. Evelyn proves to be a kick ass main character for her time. She is NOT going to let anyone tell her what to do. Not her parents, men, or even society. She is stubborn in this way which makes you laugh at the things she says, plus pumping your hands in the air as you fill with pride. You can't help to love her with all of her sarcasm and sassy attitude. Then we have Sebastian Braddock…distant, cocky, sneaky. Can we trust him? Should we trust him? Sebastian sent my emotions on a roller coaster ride. He also does a good job at pissing off Mr. Kent…the kind, handsome gentleman that set off to help Evelyn find her sister. Secrets…just so many secrets.
Now I bet your thinking that there is some awful love triangle in this book. I mean we do have 1 girl and 2 boys…got to be a love triangle. You don't have to worry. Any affection that is brewing in These Vicious Mask is slow burning, making it natural and not having your eyes roll out of your head. Plus Evelyn is too worried about her sister that she doesn't have time for romance.
I have raved so much about These Vicious Masks that I wouldn't want to leave you thinking that it is perfect. I did have a few minor issues. Sometimes the pacing was a little slower than I would like it. And there could have been a little bit more action. A book filled with powers you kind of expect powers. But, I still felt fulfilled by the end of the book. Oh and lets not forget about the cover…yes it is a pretty cover, but I don't think that it really suits this book.
I'm scared that if I keep writing that I will end up spoiling the book for you. I just want to say that  Shanker and Zekas did an amazing job leaving you with an ending that breaks and warms your heart.
When I went into this book I didn't know that there was more to come…I really need to pay attention to what I read. Now I am left feeling lost and heartbroken while I wait for the next one, These Ruthless Deeds, which is not until March 2017.
RATING: 
Did I like it? Yes…I love this book
Would I reread it? This will be going on my self of rereads…I'll probably do that before the next one come out.
Would I purchase it? Can't wait
Would I recommend it? Of Course…Victorian Era with powers