YOU CHOOSE is a weekly meme. Every week (starting on Thursdays) I will be posting 3 books that are on my TBR list that I want to read and YOU CHOOSE which one is the winner. These can be books in any format, on your own shelf, or borrow from a friend or library.
All pictures are linked to goodreads
---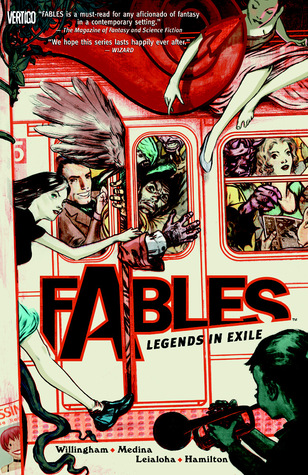 When a savage creature known only as the Adversary conquered the fabled lands of legends and fairy tales, all of the infamous inhabitants of folklore were forced into exile. Disguised among the normal citizens of modern-day New York, these magical characters have created their own peaceful and secret society within an exclusive luxury apartment building called Fabletown. But when Snow White's party-girl sister, Rose Red, is apparently murdered, it is up to Fabletown's sheriff, a reformed and pardoned Big Bad Wolf (Bigby Wolf), to determine if the killer is Bluebeard, Rose's ex-lover and notorious wife killer, or Jack, her current live-in boyfriend and former beanstalk-climber.
---
NEW HORROR SERIES FROM THE WALKING DEAD CREATOR ROBERT KIRKMAN! Kyle Barnes has been plagued by demonic possession all his life and now he needs answers. Unfortunately, what he uncovers along the way could bring about the end of life on Earth as we know it.
---
A cross between Bambi and Cormac McCarthy's The Road, SWEET TOOTH tells the story of Gus, a rare new breed of human/animal hybrid children, has been raised in isolation following an inexplicable pandemic that struck a decade earlier. Now, with the death of his father he's left to fend for himself . . . until he meets a hulking drifter named Jepperd who promises to help him. Jepperd and Gus set out on a post-apocalyptic journey into the devastated American landscape to find 'The Preserve' a refuge for hybrids. In this second volume, Lemire explores the heartbreaking story of Jeppard and how he went from a devoted husband to the ruthless mercenary he is now. Meanwhile, Gus is captured in a camp with other hybrid creatures where he meets Dr. Singh, a scientist studying the plague that's wiped out so much of the world. By traveling more into Gus' past, Singh will learn more about the plague, as well as clues at how some of it might relate to Gus and his father.
*This is vol 2…I have read vol 1 a couple months ago.
Here are my 3 picks for the week, now YOU CHOOSE which one I should read next week. Leave your answer in the comments and I'll be posting the winning book in my Weekly Recap post.
Make sure you link up your YOU CHOOSE post below