Title: Devils in the Dark: The Devil in Miss Drake's Class, Book 1
Author: Marcus Damanda
Narrated by: Jessica McEvoy
Genre: Young Adult, Suspense, Social Issues
Publisher: Marcus Damanda
Publication Date: June 2015
Lenght: 3 hrs and 40 mins
How did I get this book: Audiobook Boom
SYNOPSIS
To most of the Facebook Fifteen, bullying Audrey Bales was just a game—until two deep cuts with a Swiss army knife changed everything forever. Audrey didn't want attention anymore. After five weeks at Fairview High School, Audrey wanted to die.
The doctors did the only thing they could with her: they put her away.
But in Fairview, Virginia, the nightmare is only beginning. The chat session had not gone unobserved. The Facebook Fifteen have drawn the attention of an ancient evil that lives only to punish those who would prey upon the weak.
They are the ghosts of 1,000 dead children—1,000 suicides—and their master…
Their master likes Audrey Bales.
And as Audrey attempts to heal her mind and body, far from home, their master prepares for the revenge he will unleash upon her return. (from Goodreads)
MY THOUGHTS
As a mother of 3 teenagers, this book took me to an emotional state of fear. Marcus Damanda grabs our attention right from the beginning and doesn't let go. Feeling that will arise: FEAR, ANGER, SADNESS, FRUSTRATION, AND SHOCKED
Damanda starts the story with with us watching this nasty correspondence between Audrey Bales and her class mates…one of them being her ex-best friend. This was probably the most difficult part of the book to get through. After that the story follows 1) Audrey in the hospital, 2) her classmates and their consequences, and 3) the ancient evil.
It allowed us to see the turmoil that Audrey was going through during the event and after, plus the thoughts and feelings of her classmates. These kids….what can I say about these kids? So many times I just wanted to scream at them, shake them until common sense was recovered…And most of all, I just wanted to give some of them a good hardy slap. They still piss me off just thinking about it.
TRIGGER WARNING: You might have already been able to tell, but if attempted suicide and bullying is a trigger for you then you might want to enter this book with caution.
You're probably wandering about this ancient evil? Well I am too.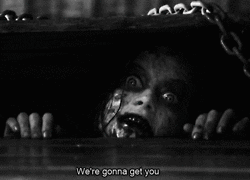 I still haven't figured out how the ancient evil fits in. I keep thinking that I missed something. I just might end up taking another listen to this book to figure it out. The audiobook was just under 4 hours long, which made it a quick read. But the most I can tell is goes after those that are not really that nice to others. I am hoping that Book 2 clears it all up for me. I WANT THAT ONE NOW!!
Other then my ancient evil confusion, I thought this was a fantastic story about bullying and the consequences. However, I did have one problem, which may not be an issue for everyone. When I listen to an audiobook, I normally have to turn the speed up because the narrator is to slow for my listening speed. Where this was an ARC I left the speed at 1x. Jessica McEvoy was an amazing narrator for most of this book.
What do I mean by most? Let me break it down into two parts…the narrator and the characters. The characters were wonderful, easy to listen to, and distinguishable. The narrator's voice wanted to put you to sleep. I felt like I was in a meditation workshop and definitely could not lay down to listen to this book. Other then that…it was great. Can you speed it up without losing anything? Yes, McEvoy voice was slow enough that all you had to do was speed it up by .25x and it would be easier to listen to. Like I said, this issue is a small issue and was quickly overlooked by the rest of the narration and story.
This audiobook was given by the author, narrator, or publisher at no cost in exchange for an unbiased review via Audiobook Boom.
RATING: 
Did I like it? Yes
Would I reread it? Probably
Would I purchase it? Yes this is a book that I would purchase and then make everyone read it.
Would I recommend it? I would recommend this to parents and teenagers.
Have you read this book? If not and your interested, I think the audiobook would bring more to the story. Happy Reading 🙂