Title: Romero and Juliet: A Tragic Tale of Love and Zombies
Author: Warren Fielding
Narrated by: Andrea Emmes
Genre: Sci-Fi: Contemporary/Horror
Publisher: Malevolent Press
Publication Date: May 12, 2016
Lenght: 2 hrs and 23 mins
How did I get this book: An Arc from Audiobook Boom
SYNOPSIS 
You all know the tale. Star-crossed lovers meet; all they want is what they cannot have. Each other. It's a story as old as time – or is it? The headstrong Romero of the house of Montague holds nothing but contempt for the cowardly DeCapulets. Until, that is, he meets Juliet. Beautiful; deadly; her skill with a bow is matched by no other, and she fires an arrow straight through young Romero's heart. Torn between their warring families and trapped by the waves of the undead crashing against the city walls, what chance do our young couple stand at having a future together? You thought you knew the story of Romeo and Juliet? Think again in this satirical retelling of one of the world's most well-known love stories. Containing love, gore, and sarcasm, it's a story suitable for teens upwards, and should be enjoyed by adults 'of all ages'
MY THOUGHTS
I was excited to get a copy of Romero & Juliet: A Tragic Tale of Love and Zombie by Warren Fielding to review. The Romeo & Juliet story + Zombies = Hell Yes
The story was pretty much the classic Romeo & Juliet, expect it was written as a story and not a play….oh, and the zombies. Fielding made sure it was all there. The feud between the Montague and DeCapulets, forbidden love, and tragic ending….and did I forget to say…IT HAS ZOMBIES.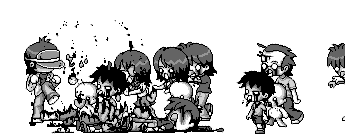 Can you tell I was excited for the zombies? Fielding didn't disappoint and inserted zombies into Shakespeare nicely. I could have used more zombies and zombies action, but considering the length of the story, it was put together without taking away from the original story.  With that being said, for those that don't remember…there was instant love in Romeo & Juliet ♥♥♥
Since there is not much left to say about the story or the zombies, let me tell you that the audiobook was even more interesting and engaging with Andrea Emmes narrating. Emmes was fast paced, showing emotion through the entire book. Some people don't like a fast faced audiobook, but that is not me. I am normally the kind of person that has to speed up my books, but you have no reason to do that with this one.
This audiobook was given by the author, narrator, or publisher at no cost in exchange for an unbiased review via Audiobook boom.
RATING: 
Did I like it? Yes, I love the Romeo and Juliet story and zombies
Would I reread it? Maybe, depending on the reason.
Would I purchase it? Probably not, but not because it wasn't good. I don't buy books that I already read unless I know I will reread it.
Would I recommend it? I would recommend this to anyone that liked Romeo and Juliet, plus zombies.