It has been many years since I have been out of school, so I am not really sure what they are reading now…but these are the top 5 books that have stuck with me all these years.
1…
A gripping, heart-wrenching, and wholly remarkable tale of coming-of-age in a South poisoned by virulent prejudice, it views a world of great beauty and savage inequities through the eyes of a young girl, as her father ― a crusading local lawyer ― risks everything to defend a black man unjustly accused of a terrible crime.
2…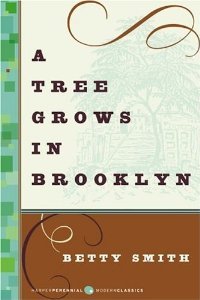 The beloved American classic about a young girl's coming-of-age at the turn of the century, Betty Smith's A Tree Grows in Brooklyn is a poignant and moving tale filled with compassion and cruelty, laughter and heartache, crowded with life and people and incident. The story of young, sensitive, and idealistic Francie Nolan and her bittersweet formative years in the slums of Williamsburg has enchanted and inspired millions of readers for more than sixty years. By turns overwhelming, sublime, heartbreaking, and uplifting, the daily experiences of the unforgettable Nolans are raw with honesty and tenderly threaded with family connectedness — in a work of literary art that brilliantly captures a unique time and place as well as incredibly rich moments of universal experience.
3…
 David Storm's father doesn't approve of Angus Morton's unusually large horses, calling them blasphemies against nature. Little does he realise that his own son, and his son's cousin Rosalind and their friends, have their own secret aberration which would label them as mutants. But as David and Rosalind grow older it becomes more difficult to conceal their differences from the village elders. Soon they face a choice: wait for eventual discovery, or flee to the terrifying and mutable Badlands…..
The Chrysalids is a post-nuclear apocalypse story of genetic mutation in a devastated world and explores the lengths the intolerant will go to to keep themselves pure.
4…
As soon as Anne Shirley arrived at the snug, white farmhouse called Green Gables, she knew she wanted to stay forever…but would the Cuthberts send her back to the orphanage? Anne knows she's not what they expected–a skinny girl with decidedly red hair and a temper to match. If only she could convince them to let her stay, she'd try very hard not to keep rushing headlong into scrapes or blurt out the very first thing she had to say. Anne was not like anybody else, everyone at Green Gables agreed; she was special–a girl with an enormous imagination. This orphan girl dreamed of the day when she could call herself Anne of Green Gables.
5…
Arthur Miller's classic parable of mass hysteria draws a chilling parallel between the Salem witch-hunt of 1692 – 'one of the strangest and most awful chapters in human history' – and the McCarthyism which gripped America in the 1950s. The story of how the small community of Salem is stirred into madness by superstition, paranoia and malice, culminating in a violent climax, is a savage attack on the evils of mindless persecution and the terrifying power of false accusations.
Have you read any of these books? I can't say that I loved reading in school, but these are the books that I ended up reading again as an adult because there was something about them that I wanted to experience again.